Disclaimer
The writer of this article cannot be held responsible for for any form of damages that may result from the use of the information in this article. By reading this article, the user is effectively in agreement that the writer is completely exempt from any liability. If you do not agree, then do not read this article!
Introduction
Choosing a durable and well-designed backpack for your needs can be a daunting and confusing task as there are so many backpacks to choose from. Store staff opinions and the information or opinions from people found online can be deceptive or subjective, as everyone has their own take as to why they like or dislike a particular camera backpack.
I have purchased several camera backpacks before, mostly from Lowepro and other unknown brands manufactured in China. I usually purchase these unknown brands from online sellers on Ebay or AliExpress as they provide the cheapest prices for a wide range of overseas camera backpacks. In general, I have found the unknown Chinese brands seems to have consistent quality control issues such as loose threads or poor stitching but there have been the occasional solid bags that I have received that were very well produced but usually comes at the higher end price range. I have also found that in general, the overseas Chinese brand seems to be smaller in size than it's known brand competitors.
Below are some Lowepro Protactic 450 AW Backpack prices from various online stores. The retail price seems to be around $349.00 AUD in Australia from Lowepro Australian distributor C.R. Kennedy and Co. and retail store, Ted's Cameras.
---
Ebay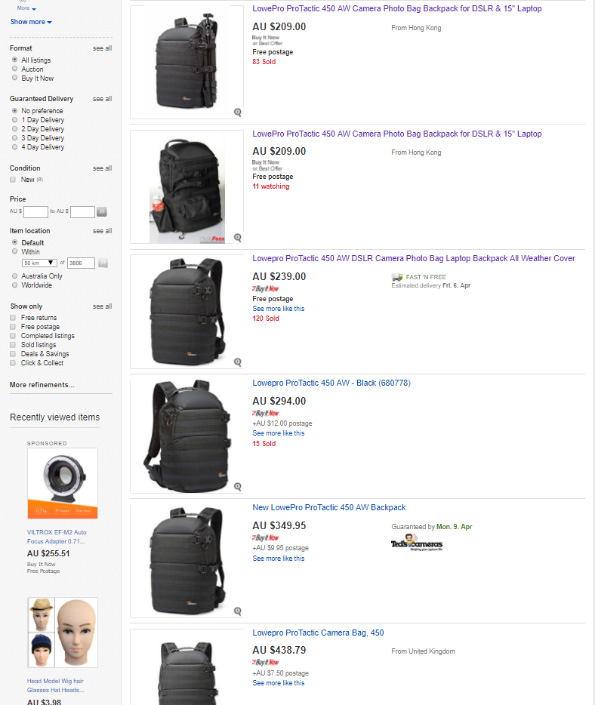 Ebay Lowepro Protactic 450 AW Backpack Ads in AUD currency
---
AliExpress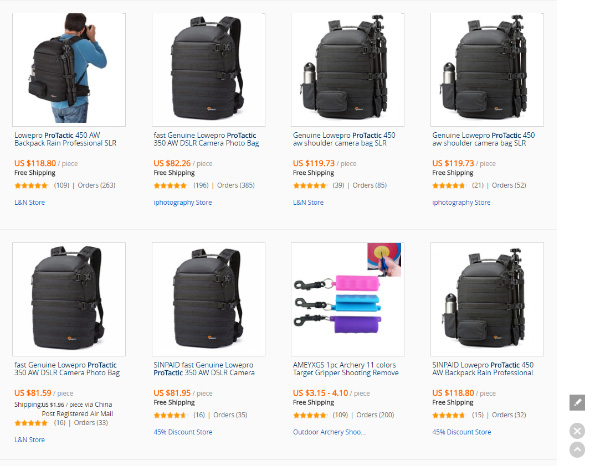 AliExpress Lowepro Protactic 450 AW Backpack Ads in USD currency
---
Amazon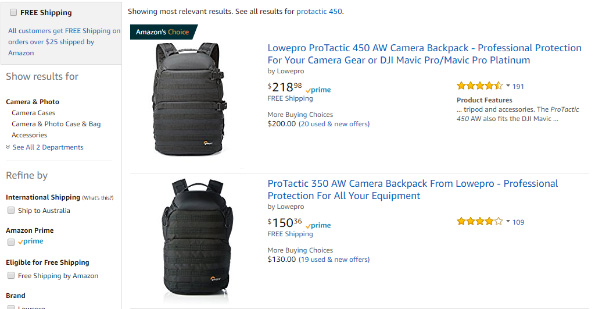 Amazon Lowepro Protactic 450 AW Backpack Ads in USD currency
In my experience, the Lowepro brand produces very good durable bags for photographers and videographers. My first camera backpack was a medium size Lowepro CompuTrekker AW which allowed me to carry up to a 15 inch laptop, Canon 5D Mark III DSLR camera with battery grip, 3 lenses(usually 70-200mm f2.8 L IS USM, 24-80mm f2.8 L, 50mm f1.8) and accessories(spare batteries, memory cards, filters, cleaning pen, blower, water bottle), and Gopro Hero 4 action camera with spare battery.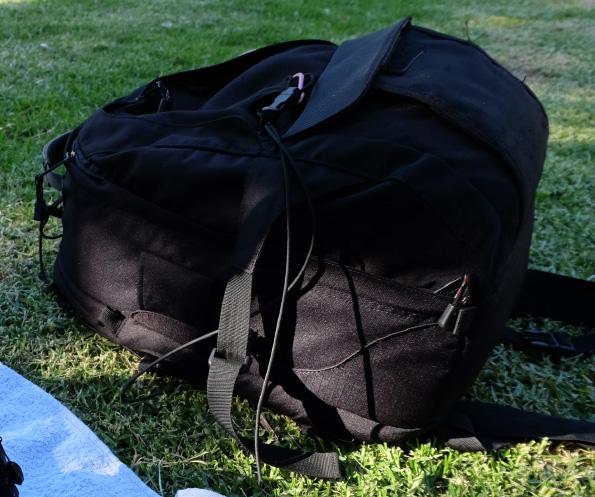 Lowepro CompuTrekker Backpack
Occasionally I would attach my travel tripod and case on top of the bag or attach a monopod to the front of the bag. This was my staple camera backpack for approximately 8 years which to this day still holds up well and I still continue to use it when I need a medium size camera backpack when I travel. I also have a Lowepro Photo Runner camera bumbag which I have used when I need to carry only a DSLR camera, walk around lens and a few accessories.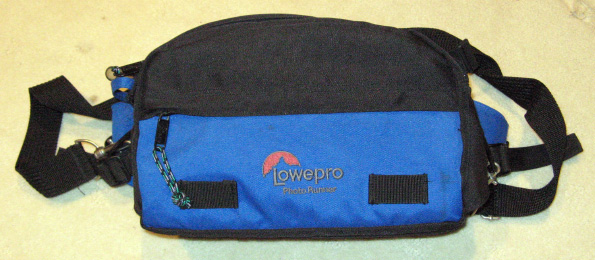 Lowepro Photo Runner Bumbag
Both bags show consistent good quality in it's build and materials which is why I decided to order a Lowepro Protactic 450 camera backpack as a larger alternative to the CompuTrekker for my next overseas trip. To my surprise when I received the backpack, I noticed a difference in general, which at first I thought was a Lowepro manufacturing change in build and materials, but when comparing it to my previous Lowepro bags and seeing an original Protactic 450 backpack at an Australian retail store, I realised that the backpack I had received from China was an inferior quality, counterfeit product, and I had been duped!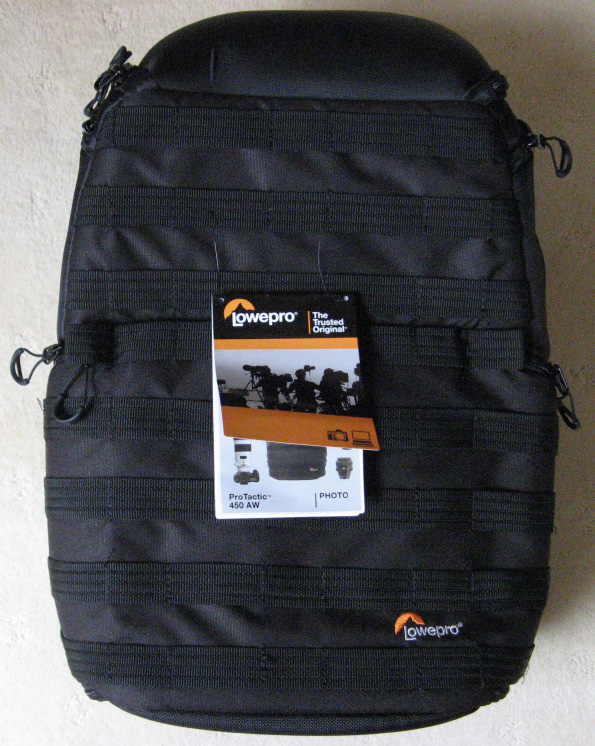 Lowepro Protactic 450 AW Backpack – Immitation
*Please excuse the color variations of some images as most were taken with different cameras, lighting and settings. Both original and copy backpacks are black and look very similar in color when viewing in person.
** Please note that I have over 200 images of issues that I have documented regarding the Fake Lowepro Protactic 450 AW Backpack that I received. I have only used a small fraction of the images to help support this article.
Now how did I manage to be in this situation, where I am the owner of an inferior counterfeit product?
Well let me explain…. I for one, find the pricing of these Lowepro bags in general, expensive! In the past, I have had good experience purchasing genuine backpacks online at a much cheaper price to its sale price here in Australia, so I thought I would give it a try with the Lowepro Protactic 450 AW backpack. I searched various online stores and comparison websites until I found a store I was confident with that advertised a genuine Lowepro Protactic 450 backpack at a cheap price. It was a high Ebay seller from China who claimed to be selling genuine Lowepro Protactic 450 AW backpacks at a very cheap price.
It must be genuine I thought, I mean it clearly states in their Ebay ad that it's genuine, the images used looks authentic to Lowepro, and why would Ebay allow for such deception to occur multiple times, as this item has been sold several times by this seller who has a good feedback score. But before I made the regrettable commitment of purchasing the Lowepro Protactic backpack on Ebay, I conducted some research about how to identify a counterfeit LowePro Protactic backpack which in hindsight, I have come to realise that majority of the information online to be misleading and misinformation. The people discussing this subject either have no experience with a genuine Lowepro product, or they are making uninformative statements, or these people know it is a copy and have alternative motives to their statements.
My research found the following information;
The Lowepro backpack copies from China are exactly the-same quality and build as the original, with manufacturers being the same manufacturers that Lowepro uses.
The much cheaper Lowepro backpacks being sold online by unauthorised re-sellers, are extra stock that the Lowepro manufacturers have decided to offload to online sellers from Ebay or AliExpress.
The Lowepro counterfeit backpacks are exactly the-same both in quality and build as the original.
I believe these statements to be untrue. After receiving the counterfeit Lowepro Protactic 450 AW Backpack, I can confirm that the quality and build of the counterfeit backpack is inferior compared to the original Lowepro bags I have used and the genuine Lowepro Protactic 450 AW Backpack that I have seen at the Australian retail store.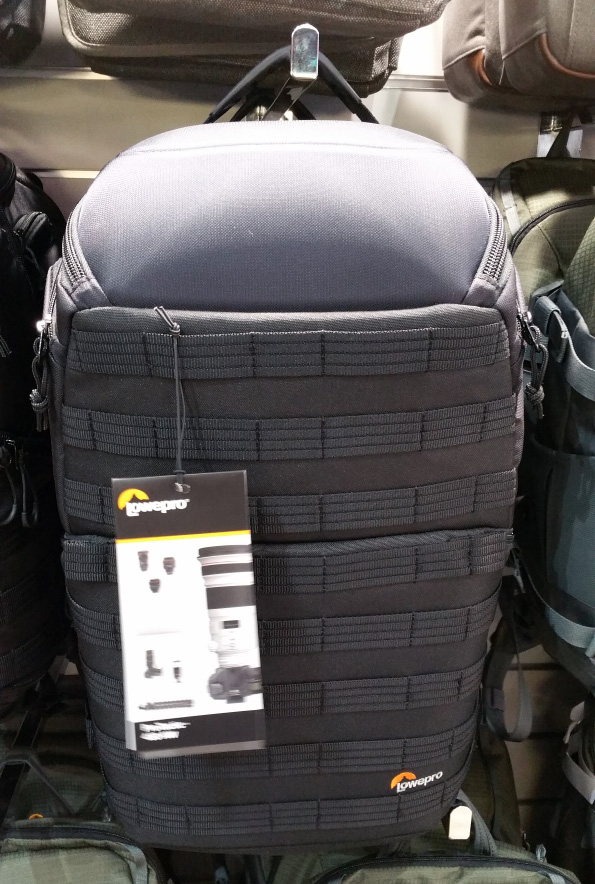 Lowepro Protactic 450 AW Backpack – Original, from a well known Retails Store in Australia.
---
Pros and Cons
Lowepro Protactic 450 AW Backpack – Original/Genuine/Authentic
Pros
Solid and firm stitching.
Very solid hard top plate.
Better built – stitching, materials, fit, etc.
Quality materials used.
Warranty.
Local seller, easier to handle warranty issues.
Fit and construction is more precise.
Good durability.
Cons
Lowepro Protactic 450 AW Backpack – Copy/Counterfeit/Clone/Non-Genuine
Pros
Price – cheaper than the original.
Cons
Poor quality stitching – loose, alignment, fitting, etc.
Latches not locking properly.
Softer and flexible hard top plate compared to original.
Poorly built – fit, stitching, materials, alignment.
Poor Support or Warranty.
Smaller than the original.
Poor quality materials used – weak stretching material.
Fit and construction is inconsistent.
Overseas seller.
Expensive to return to overseas seller.
Poor durability.
---
My Thoughts 
When I received the Lowepro Protactic 450 AW backpack copy from China, the first thing I noticed was that it was not packaged well. It came in two separate deliveries of the bag first, and the inserts next, sent in plastic mailing bags without any padding. I tried to use the inserts and configure it in various structures but noticed that these inserts did not fit together well and did not form the insert framework as shown in the advertised images properly. They were not the appropriate length or width and so it would either be too short or bend when configured to the advertised structures. I thought that this is probably why the seller did not send it as a complete package, as the backpack was not sent flat when delivered to me but at its normal shape, so there would have been no other reason I could have thought of as to why the inserts were sent separately.
I compared the materials it was made of between the Protactic 450 AW copy and my original Lowepro CompuTrekker AW and the genuine Protactic 450 AW backpack at an Australian retail store and I noticed a noticeable difference in quality. The copy used a stretchy material that felt weak as compared to the original version's material that felt solid and firm. It felt like comparing good denim jeans to cheap stretchy, thicker fabric, slacks. The seams and stitching would stretch out on the copy unlike the originals that seems to hold its place when pulled. This was noticeable at the shoulder straps connection points to the backpack body.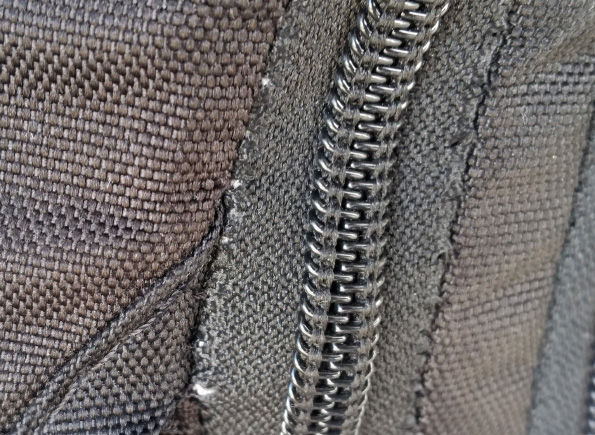 The imitation backpack has poor stitching and fabric that stretches, which indicates to me that this backpack is not going to last long.
There were a vast amount of loose threads on the backpack, and the stitching were not tightly executed in an unacceptable amount of areas.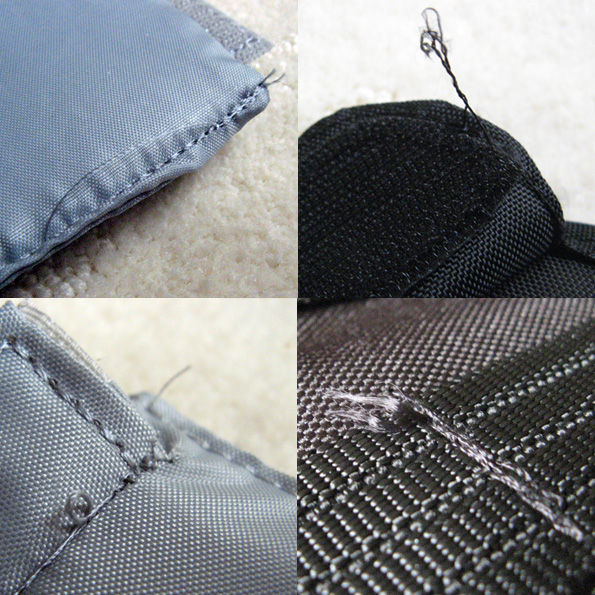 A very small example of poor stitching and loose threads found on the Lowepro Protactic 450 AW Backpack imitation.
The ribbing for attaching accessories to the backpack were not precise in spacing and alignment, or firm against the bag. Ribbing slots such as at the front that was near an edge did not have the appropriate spacing to allow an accessory to be attached such as the carry, tripod and water bottle pouch. After use, I could also notice that the stitching had stretched out at the corners and the ribbings had started to loosen.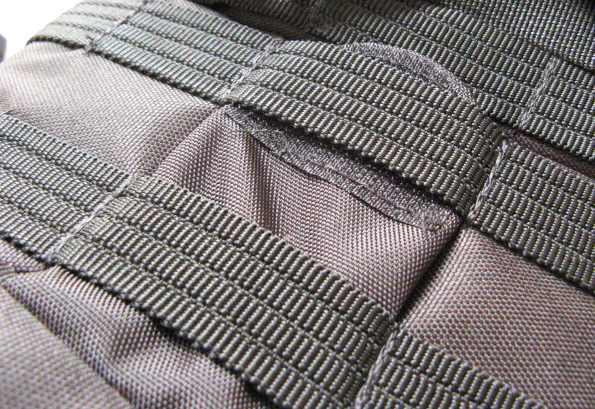 Unable to slide the accessories to the ribbing slots properly on the imitation.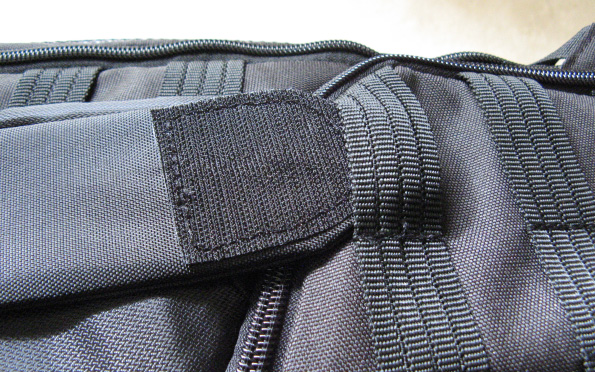 Inconsistency in ribbing slot spacing compared to the original as shown in these ribbing slots of the imitation backpack.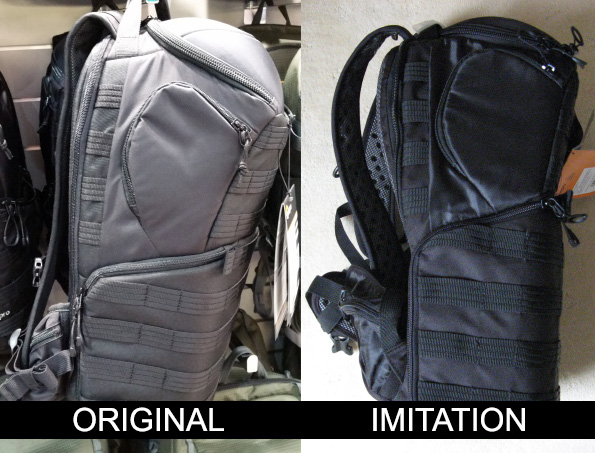 In actual photos, the imitation looks close but no cigar. Seeing and using it live, can help show the drastic difference between the original and the imitation.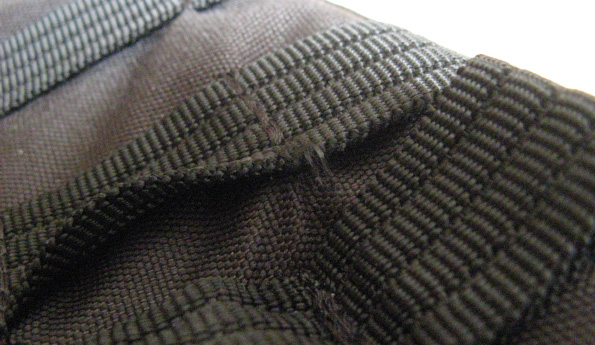 The ribbing on the imitation has already become loose even without any use.
I also noticed a difference in the bag's size in general. It seemed smaller from what I recall than the original at the Australian retail store. The hardshell top of the Protactic 450 AW copy was also softer in comparison to the original. The original Protactic 450 AW's hardshell is very hard and firm, it felt like it was made of steel, unlike the Protactic 450 AW copy which can easily be pushed in and was flexible. I would have preferred the hardness of the original as it would have helped protect my Sony FDR-X3000 action camera better, which I had placed inside the hardshell pouch.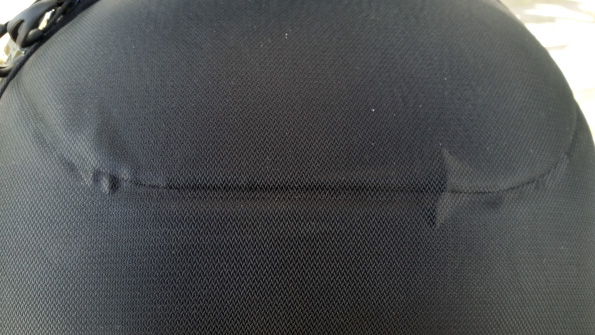 Lowepro Protactic 450 AW Backpack Imitation Top Hardshell
The latches on the accessory straps were not manufactured well as it did not close or lock properly. This made strapping a tripod firmly to the bag difficult and unsafe, so I had to tie the left-over straps manually to itself for extra security.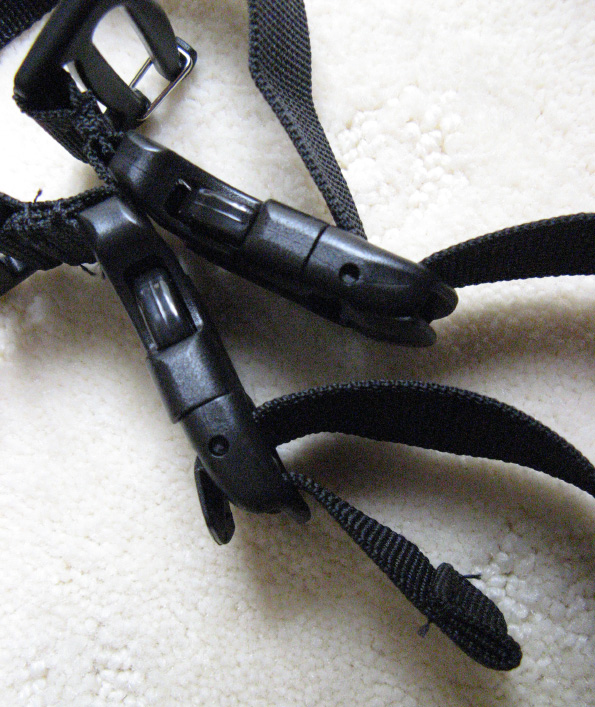 Lowepro Protactic 450 AW Backpack Imitation Latches Issues
Everything about this bag is poorly executed as a copy! It looks convincing, if you have never seen the original, but once you see the original, it is like comparing a Canon 600ex-rt flash to a Yongnuo yn600ex-rt flash. The Canon built flash feels well engineered and everything seems well-built and solid, unlike the Yongnuo flash, though a very good value for a flash knock off, there is a feeling of cheapness and lesser build quality about it.
I have read from various online sources that these bags are good quality even for a counterfeit and are comparable to the original Lowepro Protactic 450 AW, but after taking this copy for a three week overseas trip, I can confidently say, this is far from the truth!
The bag fitted OK when mounted on my back, but it did not feel comfortable. It felt as though the backpack was fighting against the shape of my back. I usually use the backpack filled with all my camera and laptop gear, the same as I would with any other travel camera backpack but I could feel that the straps on the Protactic 450 AW copy were not handling the constant mounting and unmounting of the backpack as I travelled. It started to tear at the shoulder strap joints which made me worry throughout my whole trip. I had to be careful whenever I was mounting or unmounting the backpack from my shoulders as it was clear that the shoulder straps was falling apart.
The Protactic 450 AW copy survived the length of my overseas trip literally by a thread. It would have been a major blow to my trip if it didn't make it. It was no comparison to my Lowepro CompuTrekker AW backpack which, when filled to the brim with camera and laptop gear, can handle a good amount of weight and travel use.
After arriving home from overseas and settling in, I examined the Protactic 450 AW backpack copy unloaded. Looking at the condition of the straps, I can honestly say that I am truly grateful that this backpack survived the journey home and even through the whole trip. It has become a one short trip disposable backpack purchase though, as the damage it had sustained is not worth repairing and the issues of this backpack is more than just the damaged straps itself. I removed the inserts and took what was left of the backpack to the rubbish bin. Hopefully I will find other uses for the inserts as this is the only thing left that I felt was worth keeping.
So the bottom line is, in my opinion, the Lowepro Protactic 450 AW backpack counterfeit copy is a bad camera backpack! It is not worth the price it sells for, which is a fraction of the price of the original.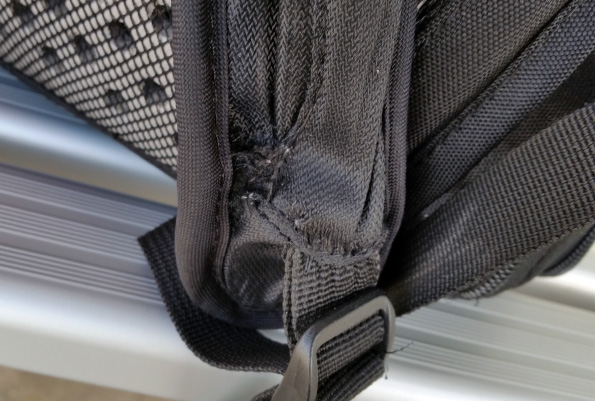 Lowepro Protactic 450 AW Backpack Imitation Strap Damage after three weeks of use
---
Conclusion
Are you better off buying the Genuine Lowepro Protactic 450 AW Backpack model?
Well, if you are reading this article hoping to justify buying the copy then probably not, as the genuine model might be too expensive for you! There may be better camera backpacks available from China, that is not a counterfeit but a genuine Chinese brand trying make good quality camera backpack.
I am unable to comment on whether the original Lowepro Protactic 450 backpack is worth the asking price, as I do not have actual user experience with the original but as for the other genuine Lowepro bags that I have mentioned(CompuTrekker and Photo Runner), it was well worth it, as I did purchase these genuine models at a cheap price. The Compu Trekker Camera Backpack I purchased online and the Photo Runner Bumbag I purchased used at a camera swap meet.
Feel free to give me a genuine Lowepro Protactic 450 AW backpack, if you would like me to test it out on my next trip, and make an in-use comparison between this fake Lowepro Protactic 450 AW backpack against a genuine model. 😎
---
Fake Lowepro Protactic Camera Backpack
Imitation Lowepro Protactic Camera Backpack
Counterfeit Lowepro Protactic Camera Backpack
Knock off Lowepro Protactic Camera Backpack
Non-Genuine Lowepro Protactic Camera Backpack
Lowepro Backpack from China
#fakeLowepro, #counterfeitLowepro, #imitationLowepro, #nonGenuineLowepro, #knockoffLowepro, #cheapLowepro