Disclaimer
The writer of this article cannot be held responsible for for any form of damages that may result from the use of the information in this article. By reading this article, the user is effectively in agreement that the writer is completely exempt from any liability. If you do not agree, then do not read this article!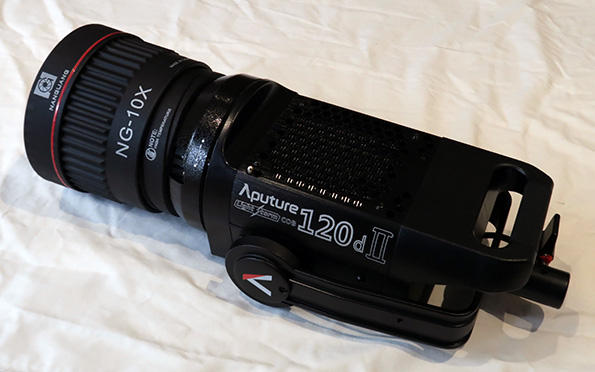 Using cheap light modifiers with the Aputure 120D Mark II COB Light
You can't afford the expensive prices for the Aputure Dome Light II Softbox or Aputure Fresnel 2X Attachment to go with your Aputure 120D II COB Light? Still undecided whether to buy the 120D Mark II light because of the total cost needed just to get a basic lighting setup with softbox?
The Aputure 120D mark II light could have been an upper end affordable COB light solution if they had not been so cheeky when developing their Bowens mount on this light. Please watch the following video, which demonstrates what I mean.
You see, their Bowens mount pretty much locks you into their own product range, such as the Aputure Light Dome II Softbox and Aputure Fresnel 2X Attachment. Purchasing or using any other brand light modifiers, puts you at the risk of not being able to use the accessories with the Aputure 120D II light as demonstrated with the video. This puts you in an uncompromising position if you have already bought the light, and you were only made aware after the fact! Most likely, you may have purchased it overseas, making returns difficult without making a financial loss. So, you have no alternative but to buy the Aputure brand light modifiers.
The issue with the Aputure 120D Mark II Light Bowens mount is that they have made their Bowens mount deeper before your light modifier can lock into the light. This means you need to use light modifiers that have longer or deeper Bowens mounting section or designed in a way so that it creates a deeper mounting section. 
As you can see in the example below, the Aputure reflector has a mounting section from the bottom locking tab to where it curves/shapes out at 14mm whilst the Nicefoto Parabolic Softbox Bowens mounting section measures approximately 15mm. Only one of the reflectors will fit the Aputure 120D Mark II Light and that is the Aputure reflector with what seems to be a smaller mounting section.

In reality, the Aputure actually has the larger mounting section, as the tubing narrows in and begins to curve out gradually, unlike the Nicefoto Parabolic Softbox which is wide tubing all the way and curves/shapes out sharply.
The deepness lacking is quiet substantial in some light modifier products and those wishing to modify a non Aputure brand light modifier needs to assess whether it is worth the risk, as the full weight of the light modifier hangs on the Bowens mount.
So, in light of this, I am only writing this article to share my own experience, and those that wish to do their own modification of their own light modifiers, do so at their own risk.
I am not a technical or structural engineer, but these mods I have attempted, have no guarantees that they are not prone to problems now or in the future. These lights can get hot, even though it uses COB led technology, so this could affect many factors to safety, quality, durability, lifespan, etc., so bare this in mind.
Nanguang NG-10x Focus Lens modification, to fit the Aputure 120D Mark II COB Light
* Any modifications to any products mentioned in this article, will affect your warranty, durability, lifespan and quality of the unit! Please research and consider all factors before deciding whether to attempt it.
** Actual measurements may vary depending on your unit, so it is best to apply your own measurements with your actual unit and only use this article as a guide if you decide to perform this mod. 
This is the more difficult and time-consuming hack for cheap light modifiers to fit the Aputure 120D Mark II light. What makes this difficult is that a substantial amount of the original locking tabs on the Nanguang NG-10X Focus Lens needs to be removed. I am talking approximately 8mm off, leaving only 2mm, which means it requires additional support by extending the locking tabs further using 2 part epoxy resin.
I used Platinum 2 parts Epoxy resin that I purchased on Ebay. These are supposedly used for jewellery, artwork, casting, boat hulls and structures. If you can use high temperature epoxy resin, then that would be better as I have not tested this epoxy resin thoroughly enough to know how much the temperature from the light will affect it, eg. if you are shooting long days at 100% max power on the Aputure120 D Mark II Light.
The parts I used are;
2 Parts Epoxy Resin
Putty
Filing tool
Sandpaper
Small Saw
Time and effort.
Using the putty, I moulded an extension of the locking tabs, ensuring that there were no leaks, by pressing it firmly together when moulding. I made extension moulding to about 12-15mm which I plan to sand down when it dries.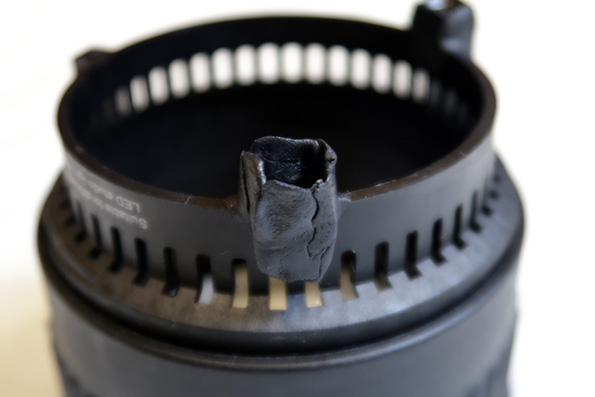 Once I have created the mould, I mixed my 2-part epoxy resin to fill inside the mould.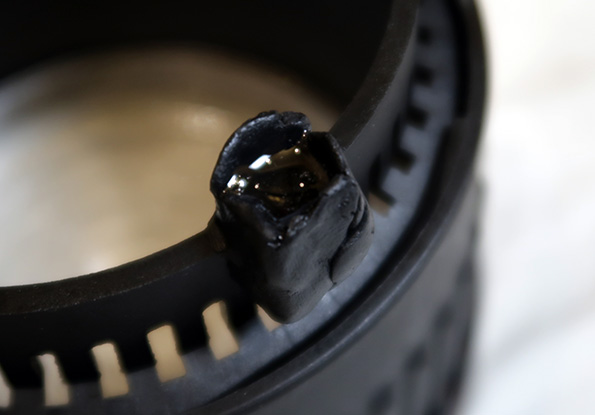 I ensured that I fill the pits of the locking tabs, as the locking tabs are not solid and I need to fill this up as it will help strengthen and support the extended locking tabs.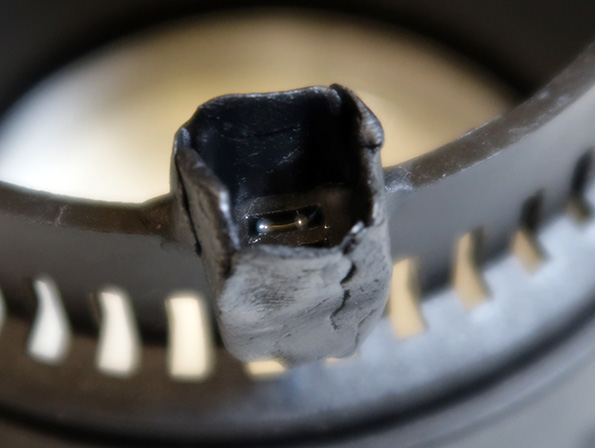 I gave it at least 3 days to set before trying to do anything with it but I would suggest longer, like a week if you have the patience.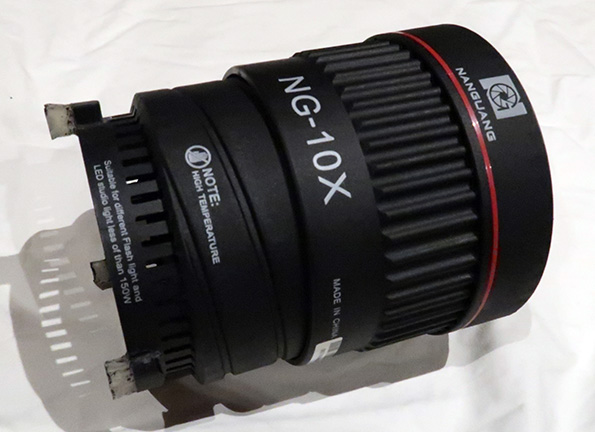 Once the epoxy resin was set, I removed the putty using my hands and toothpicks.
I measured and marked using a pencil to leave approximately 2mm of the original locking tabs on the Nanguang NG-10X Focus Lens, but actually cut off to leave 3 millimetres. Using a small hand saw or you could use wire saw, I cut it off carefully. It is not necessary to cut the locking tabs off up to the round tubing perimeter, as you still have enough space of about 1-1.5mm from the Aputure 120D Mark II Light Bowens mount perimeter lips.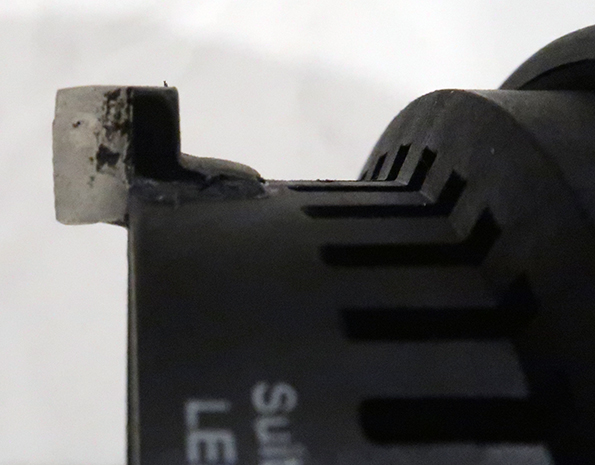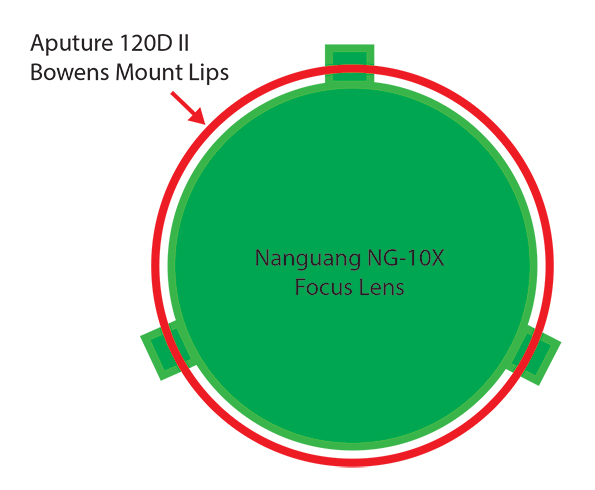 Using a filing tool, I filed and sanded away the remaining 1mm without rounding the sides off, so that there is only 2mm remaining of the original locking tab. The reason I do this is that, hand sawing might increase the chance of error, and you might cut away and leave less than 2mm of the original locking tabs which is too close for comfort so I preferred to file away the remaining 1mm.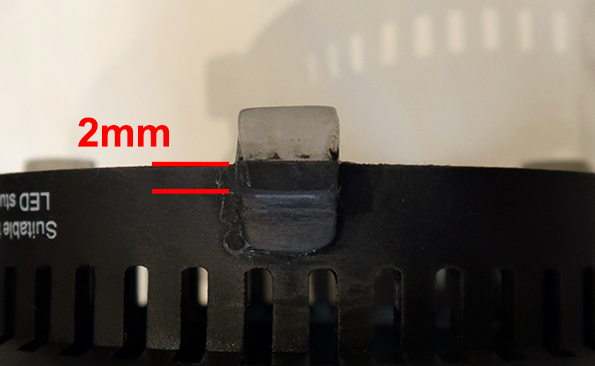 Measure up to 10mm in total for each new custom locking tab, and file away the dried epoxy resin until you get a cube like shape.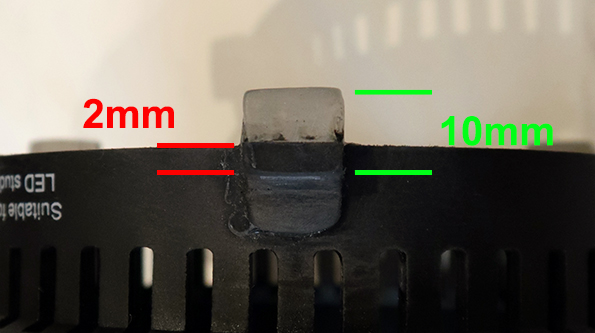 The Nanguang NG-10X Focus Lens now has enough depth to allow the locking tabs to lock into the Aputure 120D II Light Bowens Mount locking system. I cleaned up my work further using sandpaper and smooth it all out.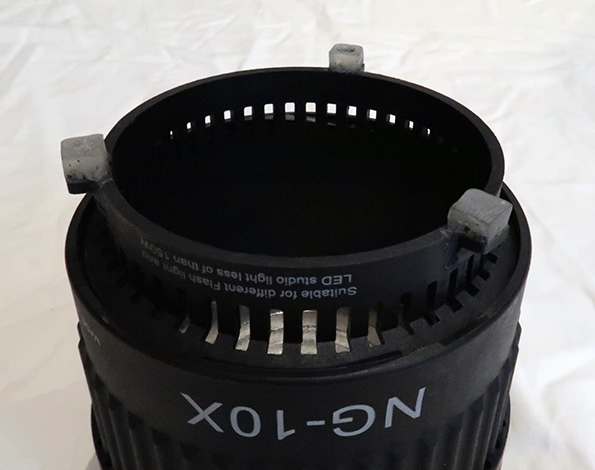 Here it is attached to the Aputure 120D Mark II Light.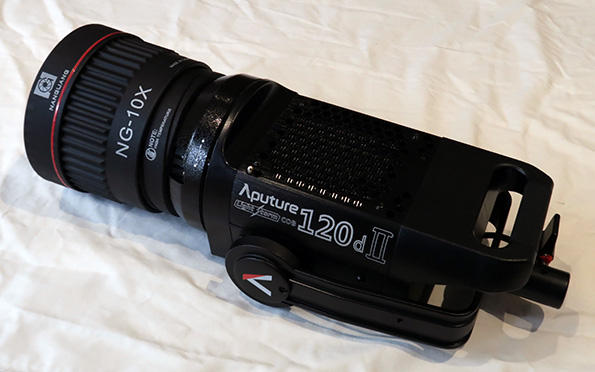 Light leak seems to be quite acceptable!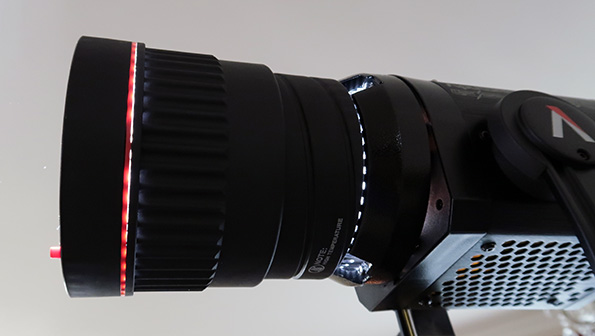 Here is a video of the results and the use of the light.
coming soon…
Disclaimer:
Please note that there are no guarantees to the safety and durability of this modification. If you decide to perform it, you will need to handle this unit with care as the weight of the unit when attached relies on the locking tabs for support (8mm custom epoxy resin) whilst the original 2mm still has the support from the tubing of the Focus Lens.
I presume that any hard knocks could affect the unit but so far it has held up well. In my opinion, it has been worth the modification as the Aputure Fresnel 2X Attachment is just way out of my budget! Not only that, you have the option of attaching colored gels which are included with the Nanguang NG-10X Focus Lens and it works as it should. I find the light leaks on this unit quite acceptable!
I am just sharing my experience with doing this modification and I am not liable for what you decide to do. Please factor in and research all options and risks that may be associated when doing this modification.
Quick Comparison Table:
Aputure Fresnel 2X Attachment
Nanguang NG-10x Focus Lens

Beam Angle 12-40 degrees

Designed to minimise light leaks

Carry Case

No filters.

Beam Angle 10-40 degrees

4 Filters (Red, Blue, Green, Yellow)

Cloth bag

Minimal light leaks

$119 USD + $30 shipping + 10% GST
$38 USD includes FREE Shipping + 10% GST
No mod necessary, immediate use.

Must take into consideration other parts and time needed to make this compatible with the Aputure 120D Mark II Light.

Parts include:

Epoxy
Putty
Filing tool
Sandpaper
Small Saw

Time and effort.