Disclaimer
The writer of this article cannot be held responsible for for any form of damages that may result from the use of the information in this article. By reading this article, the user is effectively in agreement that the writer is completely exempt from any liability. If you do not agree, then do not read this article!
Introduction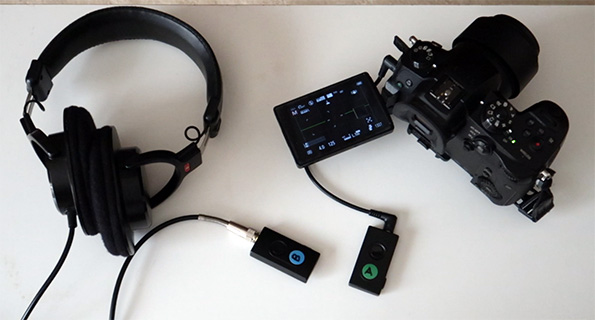 When recording video with audio, it is important to set up your audio correctly and monitor the audio being recorded to ensure you are recording the best audio quality possible. Not only is monitoring essential for initial audio set up, but also to monitor for possible audio issues that may occur while shooting, such as audio clipping, distortion, levels too low, undesirable noise or background, audio turning off, etc. This does not only apply to audio being recorded in the camera, but also portable audio recorders that you may be using to record audio footage that you will sync in post.
Cameras and Portable Audio Recorders that allow for headphone monitoring usually requires a wired headphone connection using 3.5 mini jacks. These include equipment such as the Canon 5D Mark III, Mark IV, Panasonic GH4, GH5, Zoom H4, H5, H6, Tascam DR-60D, various Camcorders, etc.
For the purpose of streamlining this article, we will be focusing the topic on converting your wired headphones and camera setup to Bluetooth wireless, but the same concept could be applied if you were using a Portable Audio Recorder instead of the camera. 
Having a wired system when shooting can be problematic for users, as the wire connecting the headphone to the camera can sometimes get tangled or hooked onto some part of your camera set up, or you may accidentally tug your headphone or camera while the headphone is attached to you. This could result in toppling your camera over, yanking the headphone cable lose or damaging the headphone sockets of your camera.
It would be great if cameras had built-in Bluetooth that allows for audio connection so that you can pair it with a set of Bluetooth headphones and have a wireless setup, but to my knowledge, they do not have!
A solution to this issue is to use two Bluetooth audio dongles. One attached to the wired headphone and the other attached to the camera headphone output. This will allow you to turn your wired headphone and camera set up into a Bluetooth wireless set up.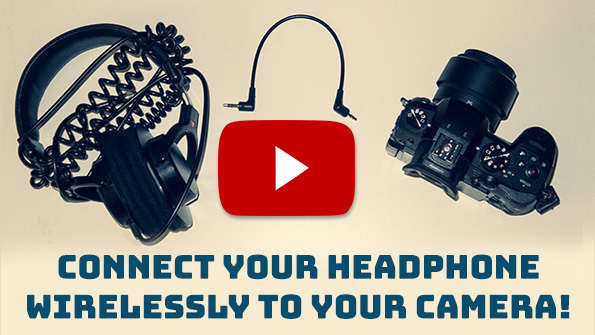 Click on the YouTube image link above to see how easy it is to set up this cheap Bluetooth Wireless System.
There are still some pros and cons when setting it up this way and it is up to you, to decide whether these factors are deal breakers. For me, having the ability to go wireless is a necessity, as there have been countless times where I almost toppled my camera over because I had the headphone attached to my head when moving around. Not only that, it is not good for the headphone cable to be tugged as it will weaken the connection between headset and cable, to the point where one or both ear piece may fail.
In the event where audio quality, or syncing and real-time monitoring is a must for headphone monitoring, I have the option of going wired directly.
Pros and Cons 
Here are the pros and cons of using this Bluetooth wireless setup I have described in this article. Please note, that results may vary depending on the Bluetooth audio dongle used. I presume the more expensive and higher quality Bluetooth audio dongle may have better latency and audio quality than these cheap $10 dongles, but this would be something that needs to be tested and whether the higher cost justifies the use.
Pros
Cheap, approximately $10 AUD for two Bluetooth Audio Dongles including free postage.
Small and very light dongles.
Allows wireless set up between headphone and camera/portable audio recorder.
Rechargeable – claims 10 hrs of use per charge.
Easy to pair Bluetooth devices.
Voice prompts – Power On, Power Off, TX mode, RX mode which are only available through a headphone or speaker attached to the Bluetooth audio dongles.
Transmission distance – in my tests I was only able to achieve 8 meters in open space before drop outs started to occur. Less distance when walls are included. Actual location may effect transmission as there may be interference from other electrical devices, concrete walls, etc.
Cons
No volume control on Bluetooth devices so volume may be too loud or too soft when listening on location (some cameras allow for headphone volume adjustment or you can attach a headphone with volume control or amp).
Sound Quality loss – loss of high end, treble or sparkle.
Mid frequencies are more prominent – good for voice.
Loses a substantial amount of the stereo width.
Sound output drops compared to plugging headphones directly into the camera.
Substantial latency in use, approximately less than a second delay, when pairing with two Bluetooth audio dongle devices. Latency is lower if pairing directly to a Bluetooth headphone and only using one Bluetooth audio dongle.
Examining the pros and cons, we can see that there are some significant factors that may dissuade you from implementing this wireless system, but to be honest, it depends on your priorities, project and purpose. As for me, the detrimental effects of the cons are dependent on the type of project I am working on.
My main priorities for the wireless system are for initial audio setup(correct gain staging, sound checks, etc.), to ensure the camera audio is still working when shooting, the audio is not clipping, mobility and equipment safety. Even though there is noticeable latency which can be annoying and distracting, I will also check visually on the camera LCD screen on how the audio levels are going. If the project is important and requires accurate monitoring with zero latency, as mentioned earlier, I have the option of connecting the headphones direct to the camera.
The Bluetooth Audio Dongle used
The Bluetooth audio dongle that I purchased for my DIY Bluetooth Headphone Wireless system was a cheap dongle that I purchased on Ebay for approximately $5.10 AUD each including GST and free postage. The Bluetooth technology used in these cheap devices seems to be up to date with claims of very acceptable specifications. There were other models online that seemed to be better quality than this device but I was unsure whether I was able to pair them to each other, so I did not want to take the risk of wasting money in case it did not work.
I changed the 3.5 inch jack cable that came with the Bluetooth audio dongle to a thicker shorter cable as I found the cable provided was too long for my use and the jack plug seems to be thinner than average.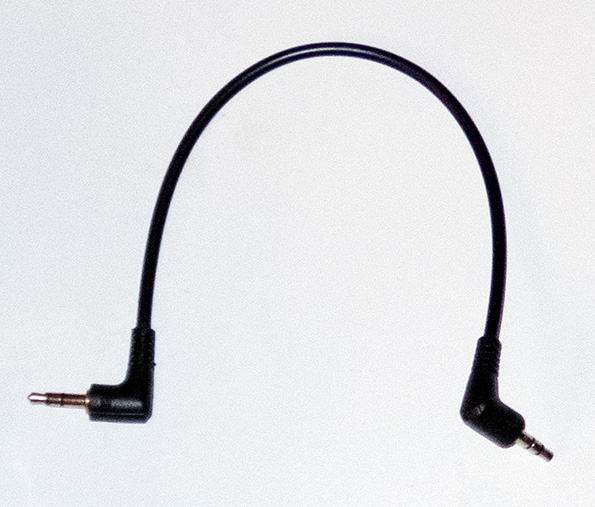 I also noticed that the 3.5 inch jack sockets on the dongles does not seem to provide a tight fit with the 3.5 inch cable plugs because when using the original cable, it easily inserts or retracts from the socket due to a weak hold.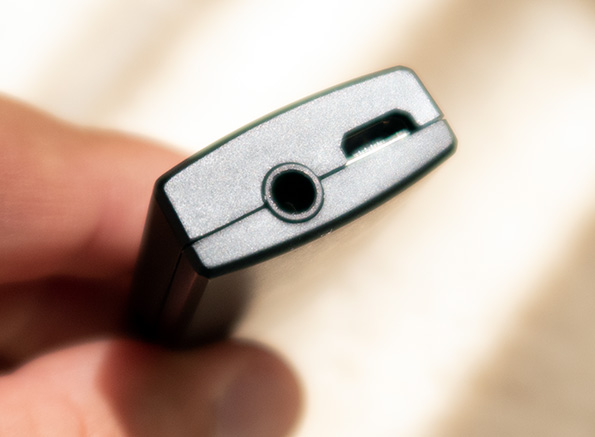 Using my own, better quality cables seems to give a tighter fit when inserted in the dongle sockets. This seems like a weak point on the unit, as it is possible that the sockets will weaken over time, but I will consider in the future to upgrade the jack sockets if it fails. The dongles are very light, that the original cable provided, even though a loose fit, seems to hold the dongle OK when it is hanging off the cable.
One of the best feature of this Bluetooth Audio Dongle is it's ability to either be a Bluetooth transmitter or receiver with a flick of a switch. The switch is a little finicky though, and you may find yourself damaging the switch as it can be hard to tell what position it is on.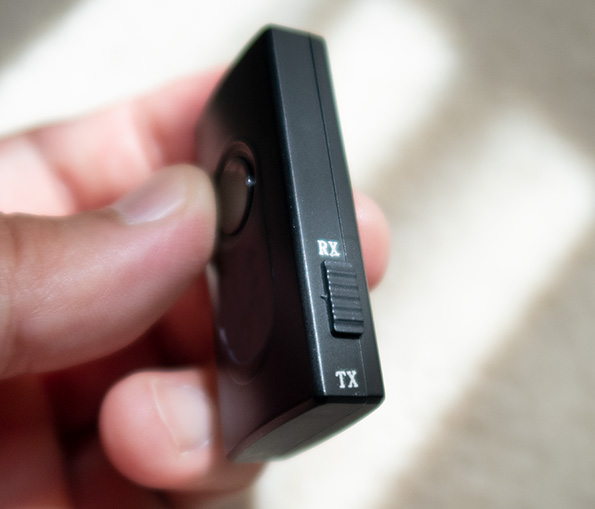 Specifications
Here are the specifications of the Bluetooth Audio Dongle I purchased.
Type: 2 in 1 Bluetooth Transmitter Receiver
Output: DC 12V 30A
Bluetooth Compliance: Bluetooth V4.2, A2DP and AVRCP
Transmit Range: up to 33ft / 10m
Supports: Dual Stream
Codec: aptX Low Latency, aptX, SBC
Working Time: 10H
Charging Time: 2 hours ; can be used while being recharged
Charging input voltage: DC 5V
Power Supply: 3.7V
Dimension: 5 x 2.6×0.9cm(2x1x0.3inches)
Features:
100% brand new and high quality
2-in-1 Bluetooth Transmitter Receiver with aptX & aptX Low Latency. supports the latest Bluetooth V4.2
Can be paired to two Bluetooth Headphones or speakers, and streams audio to both of them simultaneously
Now you dont have to pay high premium to get aptx LL-enabled wireless headphones or speakers; instead, your wired headphones or speakers can be easily turned into wireless audio devices with low latency
Now,you can enjoy high quality music wirelessly or listen to late night shows without disturbing your loved ones while they sleep
Built in battery for portable use, up to 8 hours use enjoy your favorite wireless content all the time. fast-charging it through the USB cable.
Package Includes
1 x Bluetooth Transmitter/Receiver
1 x User Manual
1 x USB charging Cable
1 x 3.5MM Audio Cable
Conclusion
Overall, for what I paid, I am happy with the results. I did compare this Bluetooth setup with other Bluetooth audio devices I have used, and also spoke to other users using Bluetooth technology for audio, and they have informed me that they too have some form of latency and audio quality compromise when using Bluetooth for audio. If this technology improves its latency and audio quality in the future, I may upgrade the dongles, but for the meantime this is sufficient enough for the purpose I am using it for.