Disclaimer
The writer of this article cannot be held responsible for for any form of damages that may result from the use of the information in this article. By reading this article, the user is effectively in agreement that the writer is completely exempt from any liability. If you do not agree, then do not read this article!
Introduction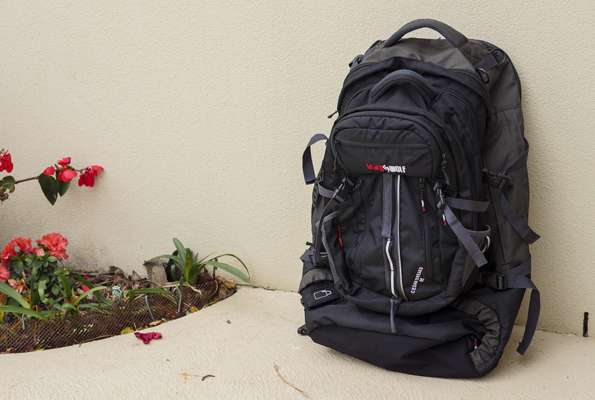 After several months of researching into current travel backpacks, I finally decided to buy the current model of the Blackwolf Cedar Breaks 65 litre back pack. I originally planned to purchase the Blackwolf Grand Teton, but I was put off by the daypack with its curved metal support bar which I felt could damage my laptop if the daypack was full. I considered purchasing a limited stock of the previous version of the Cedar Breaks 65l which was on sale at Aussie Disposals for $199.00 AUD, but after searching online for the best prices, I noticed that for a few dollars more, I could buy the latest model with what I considered to be an improvement over the previous design for $235.00 AUD.
Here is a short video outlining some main pros and cons regarding the Black Wolf Cedar Breaks 65 Travel Backpack.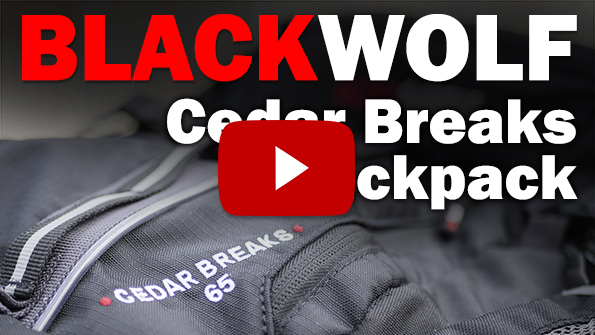 This is the second backpack I have owned which I used for travel photography. My previous travel backpack was the Osprey Waypoint 65l Mens Medium which was a very good durable backpack that withstood my travels in Thailand and Cambodia. It showed no signs of loose threading from use, or functional issues such as zipper failures, zipper tabs breaking, strap or harness issues, rips, holes, etc.
Mind you, when I decide to purchase a travel backpack, I spend months in research on both features and functions that I think I need and the price that I can afford. So what made me eventually decide on the Blackwolf Cedar Break backpack instead of other models I have researched such as the Osprey Farpoint 70l, Osprey Waypoint 80l, Dueter, Macpac, both used and new, old and current models.
It basically boiled down to the following points with consideration to my experiences with the Osprey Waypoint 65 Travel Backpack;
The daypack must be able to sit upright.
My previous experience with the Osprey Waypoint daypack emphasised to me the importance of choosing a travel backpack that had a daypack that can sit upright so that I can access items from the top. I found the daypack on the Waypoint cumbersome when having to access my items inside. I would have to lay the daypack flat and peel the shoulder straps forward to access the zipper. This resulted in a dirty daypack from laying it flat on the ground. I also did not feel comfortable having the load of the contents on either the laptop or camera gear when laying the daypack flat.
A proper water bottle mesh compartment.
The Waypoint daypack had no water bottle mesh so I had to latch it on the top handle strap using a carabiner which made the bottle swing side to side when moving.
The daypack should be shaped in a way to maximise the amount of contents I can put in it.
A blockish design would be my preference. The curved design of the Osprey Waypoint daypack prevented me from filling up the daypack full which created unused space near the bottom of the bag. It was also difficult to recover items if I had placed it in this gap.
The daypack should have easy access to my contents with security considered.
The design of the main zipper access hidden inside your back in the Osprey Waypoint daypack was nice, I felt safe roaming around crowded areas with my backpack mounted on my back. Access to my contents from prying fingers was made difficult due to this feature, but the task of removing gear was cumbersome due to having to peel the shoulder straps forward out of the way in order to access the zipper opening the daypack.
Sufficient daypack size
I require at least my DSLR and walkaround lens and some camera accessories like Variable ND filter, blower, lens cleaning pen, gopro camera, selfie stick to fit inside my daypack as I was using it as my walkaround backpack. My experience with the Blackwolf Cedar Breaks daypack size was sufficient. I was able to fit a camera padded insert that helped me organise my camera gear and provide some form of protection. I would have preferred if it was just slightly bigger though, probably an extra 2cms in width and height.
Expandable
The 65 litre size was perfect on my way to the destination but on my way back, I ended up with more content requiring more space. The extra 10 litres with the expandable gusset on the CedarBreaks was very useful and it allowed me extra room that I originally thought I wouldn't need but when travelling overseas, I found it very hard to control myself from all the temptations of buying bargains and interesting things to bring home. Please note that I carry a light travel tripod with case, inside my main backpack when I travel to and from destinations. The tripod probably takes up approximately 20% of backpack space. 
---
Pros and Cons
Pros – General
Lip that covers zippers to protect the backpack from rain or getting caught on things.
Zip tags that can be used as ties to keep the zippers closed.
Tuck away compartment to roll harness cover into backpack.
Strong large main zippers.
Various handle options that helps manoeuvring the backpack around or carrying it at different styles depending on how you want to handle it.
Compression straps – Main backpack has internal and external and the Daypack has an external.
Generous amount of compartments available to store items.
Padded shoulder and waist straps.
Padding in main handles.
Separate hidden raincover compartments on both main backpack and daypack.
Pros – Main backpack
Expandable gusset – this is a great feature that has been a life saver when leaving a destination and requiring more space than what you originally required when going to the destination.
Metal rod support to strengthen and support the backpack.
Removable waist strap.
Removable carry on shoulder strap.
Shoe or laundry compartment pouch that can be used to separate dirty clothing or shoes from main compartment.
Included mesh pouches that can attach to the compression straps by velcro.
Inner zippered compartments.
Quick and easy to use and adjust harness system
Adjustable chest brace.
Harness cover with zipper lip. Harness cover can be rolled up and tucked inside the backpack when the cover is not being used.
Inbuilt whistle on main shoulder strap which can be useful for emergencies or when you need to create attention.
Two included customizable dial locks with its own compartments.
Main zippers that can be locked together using the included dial locks.
Front accessory attachments strip to attach third party accessories to the backpack.
Shoulder straps has a variety of different accessory mounting points.
Pros – Daypack
Zippered side access to laptop pocket for quick access. Very useful when at the airport and need to remove the laptop to be checked by Airport officials.
Side mesh netting for water bottles or other accessories.
Internal padded laptop pocket.
Zipper string tabs that can be used as zipper ties to prevent zipper from being parted open when you are carrying your backpack on your back. Useful for security purpose.
Internal organiser compartments for documents, pens, gadgets, keys, accessories, etc.
Front side pockets with one RFID protected pocket that can be used for quick access or storage of important documents, accessories or passports.
Inner padding to help and support the daypack with it's contents.
Good design and style.
Hydration port which can be used for headphone cabling thru port.
Daypack can be attached to the front of the main backpack straps for turtle style use and better weight distribution. The main backpack would be mounted on your back and the daypack would be attached at the front through the main shoulder straps.
Waist strap support.
Cons – General
Loose compression straps – it should be designed in such a way so that it can be hidden when not in use.
Not all zippers have lips to help protect or hide them.
Padded handles seem to stretch and feels weak when the bag is full. It may be a weak point that may not survive from constant use.
Cons – Main backpack
Loose strap buckles that can get snagged when handling.
Poorly retains its shape when carrying heavier loads and using the side handles like a luggage. When using the handles, the bag will tend to sag which can shift or re-arrange the contents inside the bag. This issue makes handling the bag a little cumbersome.
Unused carry on shoulder strap buckles should be able to be tucked away like in their higher end model Grand Teton, to help prevent the lose buckles from being snagged.
Cons – Daypack
Removing an Apple Macbook Pro 13 inch laptop with pleather cover from the side access can be difficult when the daypack is filled. It has a tendency to get caught at the top or bottom of the slit when sliding out. Without the laptop cover, the laptop slides in and out of the daypack fine but this can lead to possible scratches on your laptop from the zipper.
Should improve on the bottom design of the daypack so that it is flat and can confidently sit upright on its own.
Loose compression straps – should design in such a way so that it can be hidden when not in use.
Harness should have a pouch similar to the Osprey Waypoint daypack so that you can tuck the shoulder straps away when not in use or have a zipped cover similar to the main backpack.
Why not get their higher end model – Grand Teton Backpack?
I was about to purchase the Grand Teton at one stage but the main reason I decided against it were;
The curved metal support bar used in the daypack. Testing it with a laptop and contents inside the daypack and mounted on my back did not feel safe and re-assuring. I was concerned about the weight and the pressure of the bar against my laptop. Even though the bar was removable, this would lose the support that helped retain the daypack's shape.
The daypack harness did not feel comfortable.
No padding for the laptop.
The design of the daypack looks outdated.
---
Conclusion
At the affordable sale price of $235.00 AUD, this is a well designed travel backpack. It is feature packed, flexible and expandable. Even though I found areas that could have been improved, it is hard to argue when comparing this travel backpack with other brands and models of similar price range.
The only issues that regretfully made me return the backpack for a full refund was the manufacturing defects that I discovered. These defects should have been identified at QA checks but it is possible that defective items do pass QA but I didn't expect it from a Blackwolf backpack with a retail price tag of approximately $360.00 AUD.
Should I have returned it or should I have taken a new replacement?
Well, the sort of manufacturing defects that I encountered had affected my faith in this product. There were a few loose threads and a seam that were not aligned properly exposing the inner materials. These sorts of defects can reduce the lifespan of the backpack and can adversely affect your travels if these issues were to take a turn for the worse.
I have to commend the store though that I purchased the backpack from for they resolved the matter quickly and contacted their Blackwolf supplier who in turn approved for a return or exchange.
Regardless of these manufacturing defects, I do prefer the Blackwolf Cedar Breaks 65 to the obsolete Osprey Waypoint 65. The Waypoint was a very good backpack, the threading and seams were solid, it had a sleek minimalist style but it lacked features and functions that the Blackwolf Cedar Breaks excelled in. If my concerns mentioned were addressed, the sale price maintained or lowered and I received no manufacturing defects, I would most likely purchase an updated Cedar Breaks backpack in the future. For the meantime, I have decided to use a hardcase luggage and camera backpack as my choice for my next travel adventure.