Disclaimer
The writer of this article cannot be held responsible for for any form of damages that may result from the use of the information in this article. By reading this article, the user is effectively in agreement that the writer is completely exempt from any liability. If you do not agree, then do not read this article!
Introduction
The Beholder EC1 Gimbal Stabilizer is a single handle 3-axis stabiliser that is used to help stabilise shaky footage that may occur when recording video on a handheld camera device. From the time of this test, the EC1 has the highest weight payload for a stabiliser in a single handle format. The stabiliser is sold under various brands such as a generic Beholder EC1, Ikan, Owldolly, etc…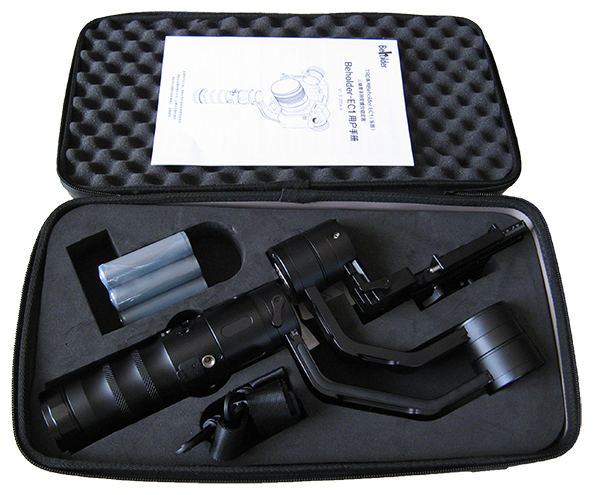 The Beholder EC1 kit
Beholder EC1 Camera Stabilizer.
Camera quick release plate.
Battery holder.
18650 Li-Ion Batteries. 
Charger
Travel case.
* Kit varies depending on where the product is purchased from.
Camera supported
Supported maximum camera package 5 pounds.
Sony A7 series, A7sII.
A6300.
GH4, G7.
Canon 5D, 7D, GX7.
NEX.
DMC.
BMPCC.
BeastGrip iPhone Cage.
Nikon D810, D800.
Samsung NX1.
Canon 60D.
Camcorders like the Sony AX53.
And Many More.
Features
OLCD Status Display.
360 Degrees of free movement.
Point and Lock.
Auto Inversion. 
Pre-calibrated.
Compact Design, fits in a backpack.
20 hour battery life.
Travel friendly.
5 way joystick.
Easy to Balance.
Tool Free.
Optional 2.4g Wireless Remote (Coming Soon).
Specifications
3-Axis stabilization.
Quick Release Plate size is 577 (501 plate).
Battery 3.7 volts 18650, 2600mAh.
Handle 3/8th tripod mount.
Two 1/4 mounts on either side of the handle.
32 Bit Board Simple BGC Firmware Version 2.06b4.
12 Bit Encoder.
MCU Motor Control Unit.
2.2 pounds weight with batteries.
Dimensions 14 by 7 by 3 Inches, 360 by 184 by 79mm.
Stabiliser modes
Follow.
Lock.
Head Lock
Follow Roll.
Home, return to starting position.
---
Testing
The following footage shows tests performed with the Beholder EC1 using various camera types such as a DSLR, Mirrorless and Video Camcorder Camera.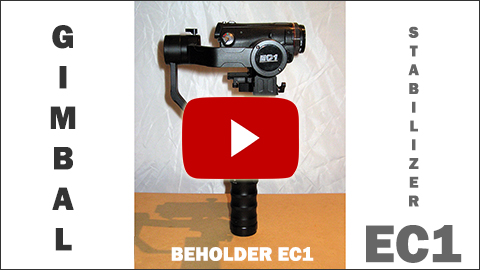 https://www.youtube.com/watch?v=73IlMvoxPW0
Equipment Used
Canon 5D Mark III DSLR Camera with 24-70mm f2.8 Mark II Lens and Hood (1.85kgs)
Fujifilm X-T10 Mirrorless Camera with 16-50mm f3.5-5.6 OIS II Lens with Arca Quick Release System (660gms).
Panasonic HDC-SD700 HD Camcorder with Arca Quick Release System (550gms).
Beholder EC1 Single Handle Gimbal Stabilizer
Factory default with no PID adjustments.
Small handle attached to the 1/4 side socket was used for additional support in some shots.
Note
Pause video if you need more time to read text.
Scroll to each section if you want to view a particular test. 
Each camera has different sensors so I have tried to match the field of view as close as possible for each test grouping to Full Frame – 24mm, 50mm and 75mm approximately.
Colored text in the description means take note of value changes from clip to clip.
Procedures used
Front Walk
Side Walk
Slow, Medium and Fast Pace
Upright Hold
Upside Down Hold
Low, Chest and Raised Height levels
Hybrid Pan and Tilt (Manual pan/tilt with Gimbal motorized pan/tilt movement)
Sweeps
Raising and Lowering
Stationary
Image Stabilization and Post Stabilization
Split Screen Comparison View
---
Observations
Comments
May require PID adjustments for better performance. Eg, when using heavier cameras such as DSLR cameras with lens.
Obtained best results out of the box using smaller cameras like Mirrorless Cameras and Camcorders.
Best to use a Camera or Lens with Image stabilization and/or a wide lens for best stable results.
I would minimize or avoid Post Stabilization if possible to prevent unwanted artifacts or quality loss.
Bring a mobile sturdy flat platform like a coffee coaster with the unit incase a flat surface is unavailable when balancing on location.
Must be careful when balancing and always have hands close by to your camera to avoid damaging your camera if the arms swing loose.
Need practice, good technique and proper setup to obtain best stabilized footage.
Consider your hand placement when using to prevent accidentally moving joystick.
Feedback
Joystick should have a middle click button for home return(mode 5) of gimbal.
Longer adjustable arm length to allow for taller and longer cameras.
Should have selectable presets to switch from light, medium to heavy cameras without having to adjust PID settings.
Increase weight payload gap for DSLR Cameras with lens (7 pounds or 4kg payload).
Ergonomic design needs improvement to suit heavier and larger cameras (ie. DSLR and lens).
Include a bobbing motion stabiliser.
DSLR cameras should mount more stable when secured to the gimbal.
Make the battery component detachable to make gimbal more compact when attaching to other devices like shoulder rigs, sliders and jibs.
Develop a shoulder rig style accessory attachment to provide a more secure or stable handling option for the gimbal.
Make batteries chargeable without having to remove the battery holder.
Make Tilt and Pan speed dependant on sensitivity when using joystick/movement. 
Make joystick movement reverse automatically when gimbal is upside down.
Add rubber layer on certain touch areas to prevent camera from damage when balancing or in use. Eg. Arms and the top of the handle could have a rubber layer where viewfinder and lens tend to hit.
Improve on the handle 1/4 inch mounts by adding some form of locking mechanism to prevent attached accessories from coming lose.
Pros
Uses encoders, fully rotates and has multiple modes.
Can be used upright or upside down.
Hold 2 seconds to set new position.
Good battery life.
Good for Small Cameras with Image Stabilisation.
It does improve stabilization of footage.
Provides a display that shows mode status and battery life.
Update ports available.
Various mount sockets available on handle.
Uses 18650 batteries instead of propriety batteries.
Has the highest weight payload compared to other single handle gimbal devices (claimed by manufacturer at the time of this test).
Easy to balance using quick release plate and latches.
Metric markers for quick referencing.
Portability.
Includes a carry case.
Cons
Produces micro vibrations, jitters and grinding noise (out of the box) when used on all camera types but mostly when tilting gimbal left, right or some awkward angle.
Awkward, heavy and tiring to use.
Canon 5D3 camera with 24-70mm lens is not stable when mounted properly and can lead to bouncing.
577 quick release system is not compatible with clone 577(501) quick release plates even with the stop screw removed from the EC1 577 mount adaptor.
Not ergonomically friendly for heavy camera systems within its maximum payload.
Camera/Lens with Image Stabilisation, Wide lens and/or good technique is needed for best results.
Bobbing motion cannot be stabilized by the gimbal.
Attaching accessories on the 1/4 mounts on the handles is prone to becoming loose when in use.
Care needs to be taken to prevent bending the arms or damaging the motors such as safe storage and avoid accidental drops or bumps.
Handle joystick gets in the way and easy to accidentally move.
Any changes in camera configuration usually requires re-balancing.
Not suited for tall or long cameras. Eg. using long lenses or attaching additional mounts that raise the height of the camera may cause balancing issues.
Easy to add nicks, bumps and scratches to your camera equipment when setting up, balancing, using, etc. especially since the lens will be exposed and it's a tight area to work with.
Handle is chunky which adds to grip and arm fatigue.
Camera LCD is hard to see when camera is mounted on the gimbal unless LCD pulls out to the side.
Mode Profile 5 is sometimes off target when returning back to home position.
Tilt and Pan control is not smooth or adjustable to sensitivity.
Battery holder needs to be removed in order to charge batteries.
Using joystick produces opposite results when gimbal is in the upside down state.
It is not cheap.
---
Conclusion
The idea of a single handle gimbal stabiliser using a heavier camera system is great but the ergonomics of the design is not suitable. Even with a handle attached, the height of the EC1 still remains top heavy and makes managing and controlling the gimbal difficult to use especially for long periods. It would be useful if the battery handle detaches to minimise the height similar to the Came-Tv Optimus stabiliser.
Even though using the EC1 upside down became more manageable on the arms, it was still heavy and it became more difficult to see what you were shooting through the camera's back LCD screen. You will also have a lower angle shot in your footage which may not be what you want.
I was unable to use the EC1 at 100% trouble free out of the box. There were always issues with vibrations, jitters or grinding motor noise when using all three camera types but mostly it occurred when tilting left, right or some awkward angle. Depending on the weight of the camera system, the handle in general was awkward and difficult to hold which became prominent on heavier camera systems. I found it very easy to accidentally touch the joystick and shift the camera position as I try to maintain a good grip and steady position holding the EC1. 
Balancing the camera requires care, as the lens and viewfinder can easily be damaged in the process if the camera swings loose. The EC1 stabiliser does work and is more effective using lighter cameras such as a mirrorless camera with image stabilisation. The footage from the mirrorless camera was noticeably smoother and stabilised in comparison to the other camera types tested. With post stabilisation, I was able to obtain smooth stabilised footage with the heavier camera setup and depending on the footage, unwanted rolling shutter type artefacts and/or quality loss will occur.
Whether the EC1 is worth buying is hard to recommend especially if the results only excels with lighter camera setups with image stabilisation. There are cheaper gimbals out there that can handle the lighter camera setup at a cheaper price. I may be able to produce better results with the heavier camera setup if I adjusted the PID settings of the EC1 and I had used a lens with image stabilisation, but these are additional expenses and experimentation that I have not delved in to.
The battery life on this unit was good, I was able to use it for 2 hours and it still had about 75% battery life displayed on the EC1 battery readout. Using a heavier setup where the motors have to do more work and making adjustments to the power configuration in the PID settings may decrease battery life.