You need to be a registered member and logged in to access the 'Locker' at Learn Like Me™.
The Locker has features that are only available to registered members.
Features such as;
Members only news
Articles Management
My Notes
Media Management
Comments Management
Profile Settings
There are 6 main sections to the Locker as outlined below.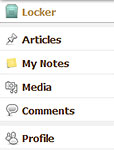 Locker Home
Displays the following;
LLM Members Only News
Latest LLM Public News
Latest Articles
Your Recent Article Drafts
Articles
Organised list of all your Articles with specifications
Ability to Search or Filter through your Articles list
Management of your Articles
Create, edit or delete your Articles
My Notes
Create or edit My Notes within the Locker. Any changes applied here will be reflected on the My Notes at the Desk
Media
Organised list of all your Media files in the Media Library
Management of your Media files
Ability to Search or Filter through your Media Library
Upload, attach or delete Media from your library
Comments
Manage your comments or comments relating to your account
Search of filter through your comments or comments relating to your account
Profile
Setup your profile information
Setup your account settings
Change your password
Setup your Social Media links
Upload your user photo
Setup your Resume and Portfolio link
Setup your Donation link
Setup your Spread mailing list
To access the Locker, you must first log in.
Once you have logged in, you will be directed straight to the Locker Home page. You can access your Locker from the Learn Like Me™ website using the top bar menu. Hovering over the key symbol will reveal the drop down menu that contains the 'My Locker' access.

From the Locker Home page you can access other sections of the Locker by using the left side menu.
For further information on each section of the Locker, please refer to the following articles.