You need to be a registered member and logged in to access the Tray features at Learn Like Me™.
The Tray allows registered members the ability to create a list of favourite articles or pages and store it in a sliding side panel that they can access any time.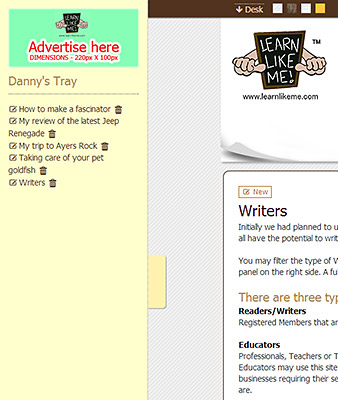 This is great for users that prefer to read their articles at a later date or time.
Once you are logged in, the Tray tab will appear on the left side of your browser window. Simply click on the Tray tab and the Tray will slide out.

To add articles or pages to your Tray list, you need to go to the article or page you would like to add and click on the pin button located at the top of the page content area. When an article or page is in the Tray, the pin of the article will turn red and become larger (in Internet Explorer, only the pin changes color but not the size).
| | |
| --- | --- |
| | |
| normal | in tray |
Your article or page title should now be listed in your Tray that you can simply click on if you would like to go to that article or page.
To remove an article or page from the Tray list, simply press the trash can button next to the title of the article or page that you would like to remove.

Alternatively, you can click the pin of the actual article or page again to remove it.
To close or hide the Tray, simply press the Tray tab again.