Temp Notes or My Notes allows a Learn Like Me™ user to write quick notes while browsing online.
This is useful for when you would like to take notes about certain pages or articles or even other sites that you are browsing at the time, while the Learn Like Me™ site is open.

Temp Notes
The Temp Notes can be accessed by any person regardless of whether they are a registered member or not. The notes are temporarily stored in your browser and will remain stored until you empty your browser's cache. Please note that the notes stored in Temp Notes are specific to the browser application used at the time. So if you stored notes using Google Chrome on your home computer, then you can not access those same notes on someone else's computer or a different browser like Mozilla Firefox.

My Notes
In order to have your notes accessible on different computers or browsers, you will need to use My Notes which stores the notes you entered in your Learn Like Me™ user account. The notes you entered can also be accessed in your Locker under 'My Notes'.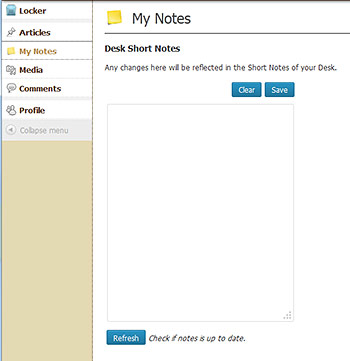 To access My Notes, simply log in and select 'My Notes' in the left side menu in your Locker. This will take you to the 'My Notes' page where you can view or edit your notes. To ensure that you have the latest version of notes in your 'My Notes' content area, please press the 'Refresh' button.
The My Notes in your Locker has a similar functional interface as in the version in the Desk with the exception of the 'Refresh' button.