You need to be a registered member and logged in to access the 'My Categories' feature at Learn Like Me™.
My Categories allows you to have your own selection of categories listed in the 'Categories' panel. This makes it convenient especially when you access particular categories most of the time.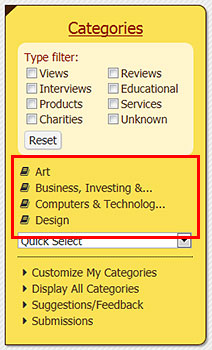 * only categories with published articles will be listed in the My Categories list
To create your own selection of categories, click on the 'Customize My Categories' link in the Categories panel. This will open up the 'My Categories' popup panel as shown below.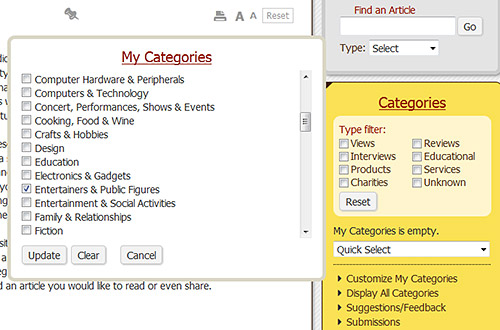 Click on the checkbox of the category you would like to add in your My Categories list. You may create up to 10 categories for your list. Once you are satisfied with your selection, press the 'Update' button. You may also clear your selection if you would like a fresh start by clicking on the 'Clear' button. Press 'Cancel' if you would like to exit 'My Categories' without making any changes.
Once you have updated your My Categories, your custom categories list should now appear in your 'Categories' panel.