Disclaimer
The writer of this article cannot be held responsible for for any form of damages that may result from the use of the information in this article. By reading this article, the user is effectively in agreement that the writer is completely exempt from any liability. If you do not agree, then do not read this article!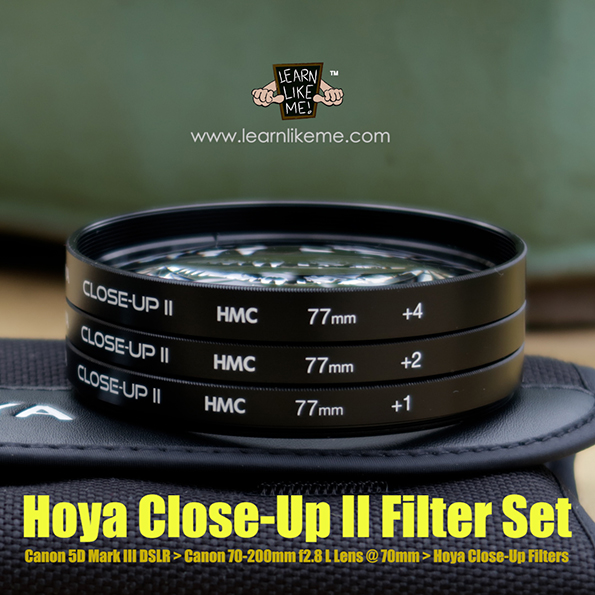 I have never considered Close-Up filters in the past, as I have read that it can result in Chromatic Aberrations and reduction in sharpness, as it adds another glass element to your lens. So when it came to close up or macro photography, I have been using Extension tubes which uses a different method by adding spacers between the lens and the sensor to  achieve closer focusing, but this method reduces the amount of light entering the sensor.
Now that some companies have made Anamorphic lenses and adapters much cheaper, I have decided to invest in my first Anamorphic lens. Since I can only afford one Anamorphic lens, I needed to make the most use of that one focal length and with the minimum focus distance being quiet substantial, I had to invest in Close-Up filters in order to get closer to my subject so I can produce tighter shots.
The caveat of using Close-Up filters though, is that you have a fixed focused area, meaning you cannot move your focused area by moving the camera forward or backwards and adjusting the focus ring and also, your focused depth is shallower (even at higher apertures), which can make focusing challenging at times, especially at longer focal lengths and wider apertures, but with the right camera settings and lens, you can make use of the shallower DOF and blurred foreground/background for some useful or creative shots.
The Hoya Close-Up II filters are Multi-coated, come in +1, +2 and +4 strengths in the set and are thicker than standard filters, making vignetting an issue on wide angle lenses. To minimise the possibility of vignetting, I have chosen the largest size set within my budget (77mm), so that I can upsize to 77mm from smaller lens sizes, using step up rings and hopefully eliminate issues with vignetting.
I did consider Achromatic (dual element) close-up filters such as the Canon 500D Close-up filter as the quality is meant to be an improvement over single element close-up filters like the Hoya. Achromatic filters are said to provide better control of Chromatic Aberrations due to the second glass element, and help sustain sharpness, but for my budget and purpose, I do not see the value in investing in one Achromatic filter with one strength when I have the flexibility of mixing up to 7 strengths from a Hoya Close-Up filter set and at a cheaper price.
I found the quality of these Hoya Close-Up filters sufficient for my type of Photography and Film Making needs and falls somewhere in the upper middle range, when comparing it between low budget close-ups (non-coated) and higher end Achromatic filters. This observation is based on all of the reviews and ratings I have read prior to deciding which Close-Up filter to purchase.
The filter threads on the Hoya Close-ups filters is very good and I find it easy to screw the filters to the lens or each other. My only concern with this product is the single layer string meshed pockets of the carry pouch that the filters slide into. I am not a fan of this approach as I feel that there is a possibility of scratching the glass as filters stack against each other when the pouch is closed. I may be overthinking this, but to be safe, I have kept the individual plastic bags they came in and continue to use it, when storing the filters inside the carry pouch.
Please refer to the video above, as it provides a series of samples applying the Hoya Close Up 2 Filters to a Canon 70-200mm f2.8 L Lens set at 70mm focal length. The camera used is a Full Frame Canon 5D Mark III DSLR Camera with the following settings – ISO100, f3.5 and 1/125 shutter.
I have used various Hoya Close Up filter strength combinations to get close-up samples from +1 to +7 strengths. The more filters are stacked together, the greater possibility of vignetting, especially on wide angle lenses, as the filters protrude more from the lens. It also becomes very challenging to focus especially when handheld and the Depth of Field becomes so narrow when wide open, that the images looks like one big blurry image.
The main purpose of the samples though, is not to demonstrate vignetting, but to provide a general idea of the effect of applying various strengths of Close-Up filter to lenses. This may be useful to those on the fence on whether to purchase a filter set or one strength that they are most likely to use.