From a user's point of view based on the functions I tend to use.
Version 1.0.1 Beta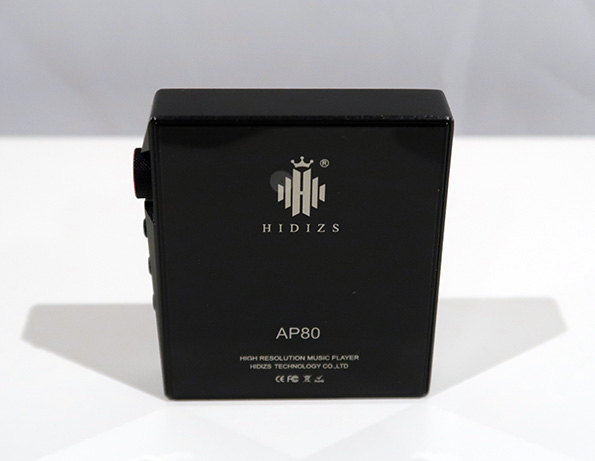 For the full specifications of this unit, please visit https://www.hidizs.net/products/ap80 or the Hibidz website.
I researched for several months regarding high resolution audio players before deciding on the Hidizs AP80 High Resolution Music Player. It was a risk at the time, as it was a brand, I am not aware of and it was a model that had just been released meaning there was a possibility of possible issues that have not been ironed out. I thought with the price and the features, functions and portability it advertised that it would be worth the risk.
Before deciding, I needed to make sure the audio player I chose to purchase would meet the following criteria;
Small enough to be convenient for travelling, exercising, or relaxing without taking up much space.
Bluetooth enabled as that is the way of the future when it comes to connectivity.
Play high resolution audio in at least WAV format as I wanted to use it for referencing audio.
Uses external microSD cards (minimum 256gb) so that I am not limited to the inbuilt memory capacity.
FM Radio as I usually like to listen to radio.
Physical transport control buttons, so that I do not have to rely on display screen buttons for Play, Pause/Stop, Forward and Previous when using.
Display screen to make navigating easier.
Mid-priced between $200-$300 AUD excluding external memory card.
The Hidizs AP80 Music Player seems to fit the bill perfectly at $157.30 USD including GST and $80.00 AUD for the Samsung 256gb microSD card, both purchased on Ebay. This came roughly to a total of about $300 AUD.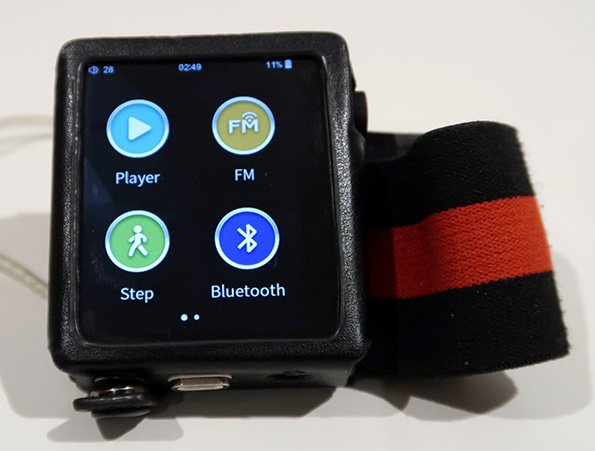 The following points below outlines the Pros and Cons I have discovered about the unit after 5 months of use.
Hibidz AP80 Audio Player
Pros
Sleek, minimalistic design.
Small.
Light.
Compact.
Touch Screen.
Solid metal construction.
Good screen brightness.
Clever functionality implemented – volume slider by swing up or down, swipe left or right to access other sections.
Physical next, back and play/pause buttons, volume knob and display screen buttons as well.
Multi-function volume knob that can be used for the volume as well as push button enter functionalities.
Protected volume knob – but could be higher to prevent accidental volume adjustments or button switching and damage from dropping.
Great sound quality – extended bass, wider soundscape, bass is not exaggerated, better sound quality than an Apple iPod Classic or Samsung Note 4 Mobile Phone.
Ability to play a variety of formats with high resolution.
Enough power to run headphones and earphones.
Good volume level.
Good Bluetooth connection but it was unable to connect to a car stereo Bluetooth.
Better solid connection using USB-C rather than Micro Usb.
Acceptable battery life for a day use but on occasional use, the unit produced some unpredictability regarding holding battery charge where the unit would become exhausted after a day of no use.
Firmware updateable.
Radio – with storable station memories.
Playlist capabilities.
Durable overall, but there are some concerns about the volume knob as it exhibits looseness or play when I first received it.
Control buttons (forward, backward, play) feels firm.
Stylish packaging.
Step counter for health and fitness.
Bluetooth function.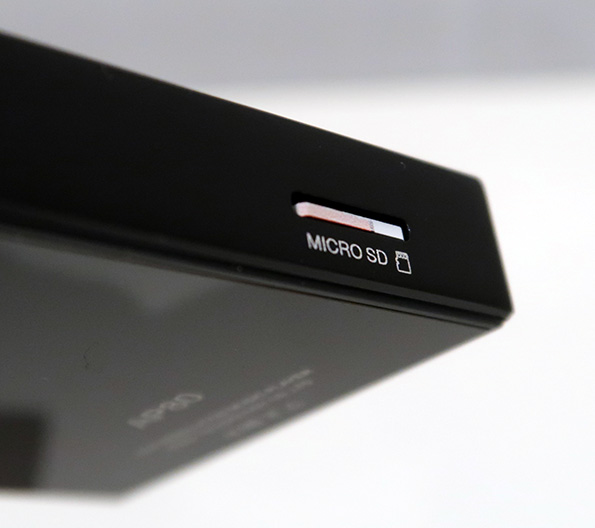 The Hidizs AP80 Music Player can use up to 1TB microSD Card.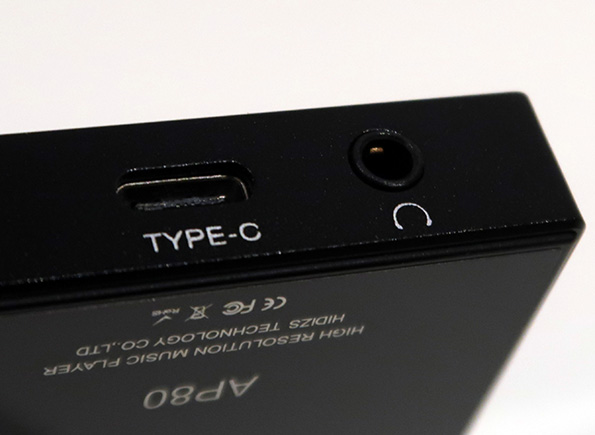 USB-C port is used, which is more secure, faster and reliable than the older micro USB ports.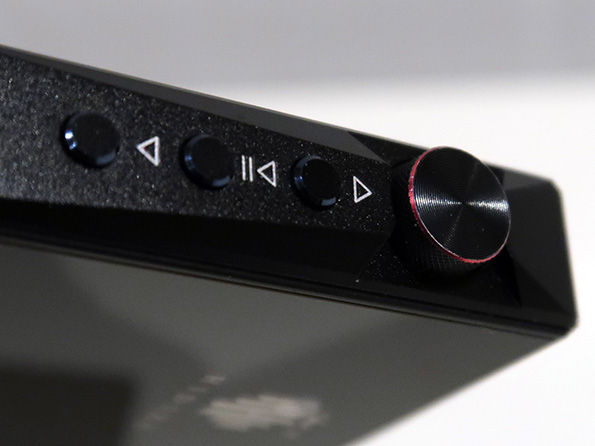 Physical Transport Controls makes changing music easier when in use, rather than having to fidget through the display screen especially when exercising or travelling.
Cons
Beta operating system.
Bugs discovered;

No audio plays but everything functions (play, timeline marker, screen functions, etc.). I have to restart the player and try to get it playing audio properly again.
Freezes sometimes and requires a restart.
Sluggish sometimes, it may be due to buffering when accessing large amounts of music.
Bluetooth would turn on for no apparent reason draining out the batteries.
Unused icons that have no function – In Step counter, when you enter the list, there is a tool cog (top right corner) that does not do anything.
Flimsy and lose volume knob that has some play on it, making it feel fragile. The knob does not seem to be user replaceable by the looks of it.
Volume knob button sometimes does not engage properly where you click it, but it remains on the down position. You need to re-engage it by playing around and turning the volume knob until you feel that click again.
Volume knob should be recessed more with the side lips for better protection against drops, accidental press or movement.
Does not remember the last song within the microSD card when turned off and turned back on.
Navigation could be improved so that it is easier to use or be more intuitive.
Clock would sometimes be set to the incorrect time unpredictably.
Unpredictable Battery life – at times drains when not in use and turned off.
On-screen functionality near the edges of the screen is hard to access especially when the case is on. Eg. Back arrow button on left top of the screen.
Back arrow button is small and at the top corner, making exiting pages like the Radio section difficult.
Poor Radio reception – struggles to lock to FM stations. Noisy reception when it does lock in. This has made the radio feature useless on this unit!
No power adapter provided.
Radio requires hardwire earphones to be inserted to function.
Some functionality on-screen buttons, or text remains small even when text size is increased.
Leather Case
Pros
Designed for the AP80.
Good quality material and stitching.
Cons
Tight fit initially but loosens slightly eventually.
Strap fits loosely – and can slide up and down the case.
Lacks front cover and users can accidently make adjustments if the screen is left on.
Holes for the earphone is limited to small round earphone plugs and not slightly larger headphone plugs. This should be made bigger!
USB-C hole is tight and can make inserting USB-C plug difficult.
Holes do not properly align with the unit's buttons.
Lacking top cover to prevent AP80 from sliding out. Even though it is a tight fit, it should still have a safety latch as you may want to wear it on your wrist with the screen facing you and you may end up swinging it around when it use, such as if you were exercising.
No ability to attach a clip of some sort such as a belt clip.
Strap tends to scrunch up when used as a wrist strap.
Strap needs to be more flexible in regard to where it can be attached as it seems to be more suitable for arms rather than wrists which I use it for.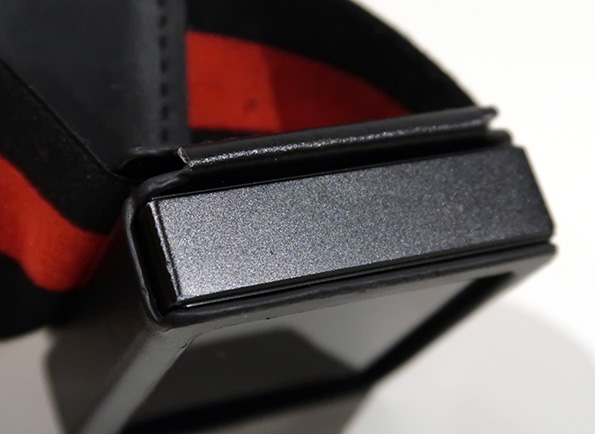 Leather Case lacks top latch to prevent the AP80 from sliding out.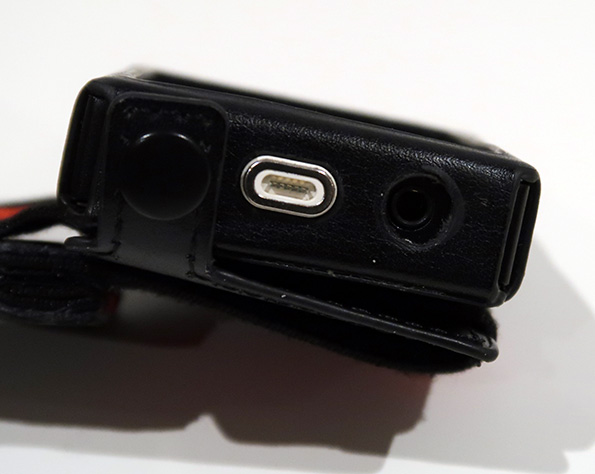 Headphone port hole should be bigger and is too small and limits the headphone plugs you can use.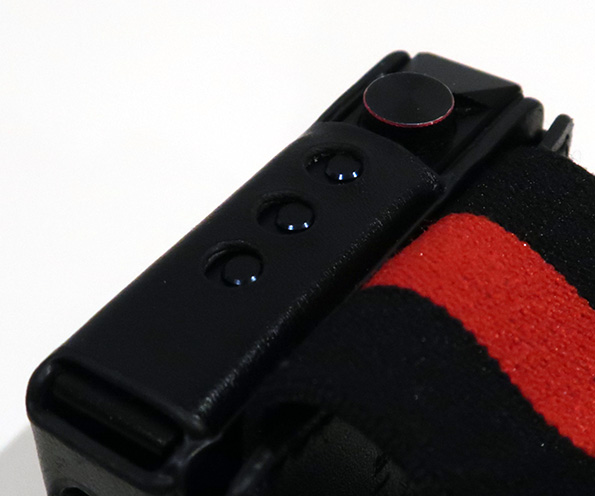 Normally the holes on the case do not align properly with the transport control buttons of the AP80. It may need a very hard push to align it better, but it always remains in this position.
Recommendations
Date and Clock screen saver could be used, so that it can function as a watch.
Sound Quality
Using an Audio Technica E40 IEM earphones with custom DIY silver plated cables, I found this unit a substantial step up to the Apple iPod classic and Samsung Note 4 Mobile Phone as an audio player, in terms of audio quality.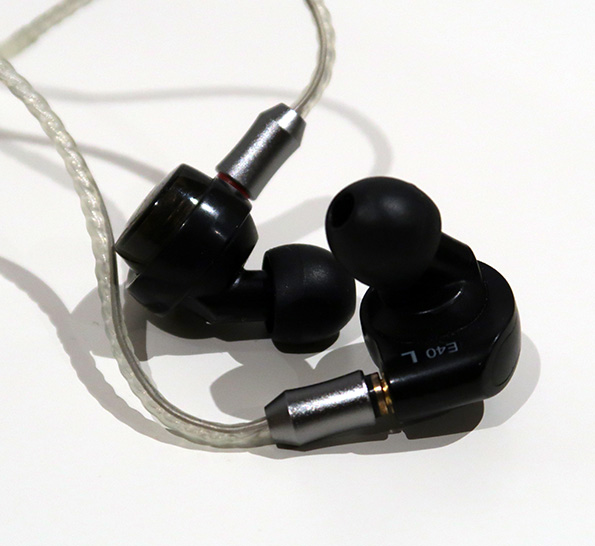 Comparing it to the Apple iPod, the AP80 has better frequency response, wider sound stage, better definition and clarity in general and a solid bass output. In comparison to the Note 4, the AP80 has a much better and solid bass response which the Note 4 seems to produce more of a fluffy bass response. The trebles on the AP80 are nice, not brittle in comparison to both the iPod and Note 4. It is well defined with a slight forward mid, but this would be dependent on other variables such as the earphones/headphones and cables used.
The AP80 is capable of driving open or enclosed headphones with no problem, I have tested this on studio headphones such as the AudioTechnica ATH-M50, Beyerdynamics DT770 250 ohms version, Fostex T-20 and Roland RH-200. The audio response varied substantially between the different studio headphones but the AP80 delivered a more than adequate volume level for outdoor listening in a public environment. Care needs to be taken when listening to any unit at its loudest level trying to overpower environmental noise, as it is possible to damage your hearing without even noticing it until you get home with ringing in your ears and a migraine the next morning.
The AP80 is not a bass heavy producing unit. I would say it produces more of a flat representation of the bass and it does have options for different EQ responses. I don't use any EQ or filters in general, so I am not going to comment in this area as I like to leave it flat when using any audio player.
Conclusion
I would recommend the Hibidz AP80 Music Player based on the overall price I paid to have it up and running against the competition, at the time of purchase. I think Hibidz needs to improve on the user interface and make it more user friendly for such a small display screen real estate. The bugs needs to be ironed out, especially the playback issues as this will greatly impact the user experience and all the cons I mentioned should be addressed with firmware updates and future revisions of the unit especially now that it has been in the market for several months now.